full color banners, custom banners, vinyl banners, vinyl banner signs, banner signs, outdoor signage, banner printing, how to video
Full color banners can be anything you want them to be
Banners Don't Have To Be Plain and Simple
With the ability to print multiple colors and images at once, custom banner signs are only limited by that of our imagination. Pictures, and multiple colors should be a part of every custom banner design.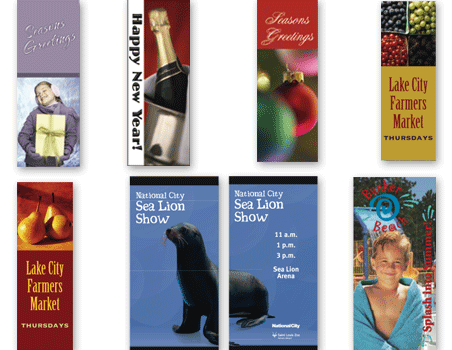 Have A Photograph You Want Incorporate With Your Full Color Banner?
Not an issue! We can take your photographs or digital photographs and turn them into custom banners.
Don't Have A Photograph To Use?
Not a problem either. Check out www.istockphoto.com. This stock photo company has tons of of selections available for as low as just $6.00!
Also, if you have access to a digital camera. You can easily snap a photograph of something you want on your custom banners, or maybe just an idea you wanted to show us.
You Just Can't Go Wrong With full Color Banners
With Custom Banners providing a vibrant display of colors & images at a low cost to the consumer, it's no wonder they are the hottest item in the sign industry.
Ready To Design Your Full Color Banners?
Feel free to try out our SignMagic online design software. Giving you the ability to make your custom banners the way you want them.
Not Feeling Creative?
Try out our Live Design service FREE of charge! Our design team will create your full color banners while you watch. There's no obligation to buy!
Best regards,

Tim Harrelson
"Hands-On CEO"
Here are some of the most pertinent facts to know about full color vinyl banners:
Readily available in two finishes


Vibrant, high gloss finish
Or a more conservative, super smooth, matte finish

Perfect for special events, sales and seasonal promotions
Easy to hang and display (banner stands and accessories available)
Suitable for use as temporary outdoor signage, up to 5 years
Completely waterproof
High tolerance to wind, cold and hot weather extremes
Vinyl Banner signs can be one-sided or two-sided
Plus, custom outdoor vinyl banners are highly versatile
You can get any size you want
Cut into virtually any shape
Any design, artwork,photo or logo can be used
And virtually any color you want, at no extra charge!
I own a gymnastics studio for children. Our landlord did not allow changeable reader board signs so we got creative. I ordered 3 different full color vinyl banners for the various specials we offer.

All I have to do is unroll the custom banner and tie it under our existing sign up front. When we change the special, I just take the old vinyl banner down and put the new one up.

The really great part is that - not only was it a lot less expensive than one of those changeable signs - the full color vinyl banner looks so much better; thanks to the help of your graphic artist.

Thank you so much.

Sincerely,
Beth Wilson
World of Fun Gymnastics
Up-To-The-Minute Custom Vinyl Banner Production Update!
We still have a few spots OPEN in today's schedule. So if you place your order today, our Art Department will e-mail you a proof tomorrow.

Wouldn't you prefer to get this vinyl banner project off your plate so you can move on to other important tasks? You can design & order your custom vinyl banner now and instantly save 15%-30% at checkout or call us now at 1-800-899-6272 and we'll reserve your spot in today's schedule for a proof.


P.S.
"Most orders ship within 1-3 days... if you need your order even faster, just let me know. I'll make sure to get it out for you!"

Frequently Asked Questions About Vinyl Banner Signs
"How do I know that my custom vinyl banner will turn out the way I want?"
Are you concerned that your custom vinyl banner may not turn out the way you want?
After all, we are probably hundreds of miles away from you so how can you be certain your order will turn out right? Fortunately, it only takes seconds to transmit full-color custom vinyl banner designs from our computer to yours because e-mails travel so fast these days.
Upon order approval, here's how the process works:
First, your order goes straight to the Art Department
Our Graphic Designer will then e-mail you a proof
(a "proof" is a picture of what your sign will look like)
Once you review the layout, let us know if you would like to see any changes, and …
If you have any changes, we will e-mail you proofs as needed until you're completely happy with your design.
"Do you offer any buyer protection guarantees?"
Yes! Every vinyl banner order comes with a 100% Buyer Protection Guarantee
Sometimes, we make mistakes. We are only human after all. But it's how a business handles mistakes that counts, wouldn't you agree? So if we do happen to overlook something on your order, we will bend over backwards to make you happy. We stand behind our work with a 100% Customer Satisfaction Guarantee.
We will promptly replace any product that is defective in workmanship or that is different from what you approved. And for your trouble, you'll even get a very pleasant surprise gift.
"Is your website secure and credit card safe?"
Does the thought of buying custom vinyl banners online with a credit card leave you feeling a bit anxious?
Are you worried you might be taking an unnecessary risk? With all the bad press about credit card fraud and card numbers getting stolen by hackers, it's wise to proceed with caution. We can understand if you still have some personal concerns about the safety of your credit card information.
Our system uses the latest 256-bit Encryption SSL technology as used by the Banking Industry, Walmart.com, Amazon.com and thousands of other online merchants
SSL technology works by encrypting all your personal and credit card information so it can travel over the internet without being intercepted by thieves
And as an added precaution, the moment you complete your custom vinyl banner order online and the charges are authorized by your credit card company, your credit card information is INSTANTLY DELETED from our data-base. It's the same as if you walked into our business, charged your order and then we SHREDDED your credit card receipt.