Real Estate Banner, Custom Banners, Vinyl Banners, Banner Sign, Real Estate Signs, Free Sign Videos, How To Video
Why A Real Estate Banner Is Better
How To Get More Attention To Your Real Estate Banner Without Breaking The Bank!
We have all seen the standard Real Estate Signs that have become a common sight all over town.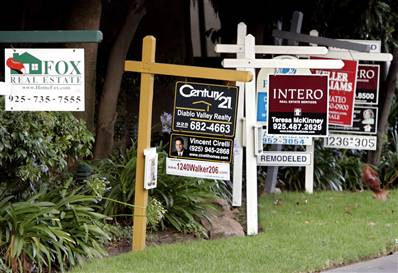 These signs don't stick out in a crowd. They aren't even attention grabbers!
This type of sign has become so commonplace people tend to ignore them. Even a great design is not always enough to attract attention. Any professional knows that when "everyone is doing it" you need to find a different was to advertise.
Are you breaking the bank trying to be different?
Large metal and large wood signs were the next step that many real estate agents began to use in order to stand out. After all, a larger sign will attract attention, right? Ummm, not if everyone else jumped on the band wagon. Not only is this becoming an all too familiar sight, but the cost does not always make it a good business decision.
Then what is the solution?
We recommend using a real estate banner. Not only is the cost much lower that the large metal and wooden signs, but a full color banner costs the same as a one color banner! Real estate banner signs are also easier to install, take down and transport. I don't think a 4' x 8' sheet of wood is going to fit easily into your trunk, but a rolled banner of the same size will fit with room to spare!
A Real Estate Banner Has More Options At Less Of A Cost To The Consumer
Cost....The price of a Real Estate Banner is less because it's printed directly onto the substrate eliminating much of the labor involved with common Real Estate Signs.
Portability....How many aluminum or coroplast Real Estate Signs can you carry in your trunk with stakes, and posts? Not many! With a Real Estate Banner you can carry 50 times that amount, and not damage any of the signs or your vehicle!
Installation....You can easily put a Real Estate Banner on any house, deck, fence, mailbox, porch, or even a garage door.
Visibility....What stands out more? One of the common Real Estate Signs in the front yard of a house, or a giant Real Estate Banner hanging across the garage door of a house? I believe the banner is a hands down winner!
Need Help Designing Your Real Estate Banner?
Try out our Live Design service for FREE! We will create a one of a kind Real Estate Banner while you watch from the comfort of your home/office. There is no charge involved for this service, and no obligation to buy!
Best regards,

Tim Harrelson
"Hands-On CEO"
Up-To-The-Minute Custom Vinyl Banner Production Update!
We still have a few spots OPEN in today's schedule. So if you place your order today, our Art Department will e-mail you a proof tomorrow.

Wouldn't you prefer to get this vinyl banner project off your plate so you can move on to other important tasks? You can design & order your custom vinyl banner now and instantly save 15%-30% at checkout or call us now at 1-800-899-6272 and we'll reserve your spot in today's schedule for a proof.


P.S.
"Most orders ship within 1-3 days... if you need your order even faster, just let me know. I'll make sure to get it out for you!"

Frequently Asked Questions About Real Estate Banner Signs
"How do I know that my custom real estate banner will turn out the way I want?"
Are you concerned that your custom real estate banner may not turn out the way you want?
After all, we are probably hundreds of miles away from you so how can you be certain your order will turn out right? Fortunately, it only takes seconds to transmit full-color custom real estate banner designs from our computer to yours because e-mails travel so fast these days.
Upon order approval, here's how the process works:
First, your order goes straight to the Art Department
Our Graphic Designer will then e-mail you a proof
(a "proof" is a picture of what your sign will look like)
Once you review the layout, let us know if you would like to see any changes, and …
If you have any changes, we will e-mail you proofs as needed until you're completely happy with your design.
"Do you offer any buyer protection guarantees?"
Yes! Every real estate banner order comes with a 100% Buyer Protection Guarantee
Sometimes, we make mistakes. We are only human after all. But it's how a business handles mistakes that counts, wouldn't you agree? So if we do happen to overlook something on your order, we will bend over backwards to make you happy. We stand behind our work with a 100% Customer Satisfaction Guarantee.
We will promptly replace any product that is defective in workmanship or that is different from what you approved. And for your trouble, you'll even get a very pleasant surprise gift.
"Is your website secure and credit card safe?"
Does the thought of buying custom real estate banners online with a credit card leave you feeling a bit anxious?
Are you worried you might be taking an unnecessary risk? With all the bad press about credit card fraud and card numbers getting stolen by hackers, it's wise to proceed with caution. We can understand if you still have some personal concerns about the safety of your credit card information.
Our system uses the latest 256-bit Encryption SSL technology as used by the Banking Industry, Walmart.com, Amazon.com and thousands of other online merchants
SSL technology works by encrypting all your personal and credit card information so it can travel over the internet without being intercepted by thieves
And as an added precaution, the moment you complete your custom real estate banner order online and the charges are authorized by your credit card company, your credit card information is INSTANTLY DELETED from our data-base. It's the same as if you walked into our business, charged your order and then we SHREDDED your credit card receipt.