Custom Real Estate Signs, For Sale Signs, Realtor Sign, Real Estate Signs, Metal Signs
Real Estate Signs
---
As a real estate agent, you need to stand out in a crowd — especially in today's market. The best way to do that is with a custom real estate sign. Your real estate sign is the first thing a potential buyer sees so it should demonstrate that you are knowledgeable, trustworthy and customer-oriented. Our custom real estate signs do just that!
Custom real estate signs are available in Coroplast and aluminum. Coroplast is recommended for short-term use only, but aluminum is durable and can be reused, making it a better value. We have unlimited options for you to choose from and a complete range of real estate sign displays. Plus, we offer substantial quantity discounts. And all real estate signs ship free!
You can make custom real estate signs from most any outdoor sign material. But by far, the two most popular real estate sign materials are aluminum and coroplast.
Aluminum — Aluminum real estate signs are both strong and lightweight. This is the most popular real estate sign material because they are extremely durable and can be reused over and over.
Coroplast — These real estate signs are made from a durable corrugated plastic and are therefore extremely lightweight. They are also waterproof, though recommended for short-term use only.

Sometimes, all you want is the bottom line!
Our online real estate sign pricing tool instantly calculates the exact prices on custom real estate signs, shows you quantity discounts, and even lets you compare this product to other sign material alternatives!
And don't forget…at TheSignChef, shipping for real estate signs and all other indoor and outdoor signage is free for orders within the continental US greater than $50 for ground and greater than $400 for freight, and orders outside the state of South Carolina are tax-free!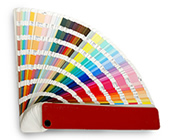 We offer more colors for real estate signs than anyone out there on the web!
You can now choose from ANY color under the sun when designing your new real estate sign. You can even choose a reflective color!
Plus, specialty finishes including brushed gold, mirror gold, brushed silver or mirror silver are available in a standard .040" aluminum thickness.
We offer a comprehensive selection of easy to install real estate sign frames, hanging posts and wire stakes for which to display your custom sign. We have more display sizes than anyone else so you can truly customize your real estate sign!
QR codes are the latest craze in marketing and advertising, and they are especially useful for real estate marketing! QR codes can take anyone with a smart phone directly to any URL you wish. Imagine this: a potential client sees your real estate sign, its QR code takes them directly to your webpage, which has a virtual tour of that particular home! Many companies charge a fee to create a custom QR code for customers, but at TheSignChef, we'll create an exclusive QR code for your real estate sign — FREE! Learn more about QR codes and their benefits and generate your custom code here!
Tim,

From the beginning, my experience with TheSignChef has been surprising — in all the right ways! Your company should be a model for internet businesses to study how to treat customers and follow through.

My respect and my thanks,

Steve Gregan
Chief Engineer
Waterfront Sound
Manhattan Beach, CA

Dear Tim,

I absolutely love the sign-making software on your site. In fact, that was the main reason I choose your company...even the most "computer-illiterate" person (and I belong to this group of people!) could easily make a brand new sign!

Plus, your prices were VERY competitive. The local company that usually makes our signs quoted $200 per sign...I thought that was ridiculous and after I found you, it confirmed my suspicions!

Your email follow-ups were great...and I was amazed at how quickly my signs arrived — undamaged!

Thank you,

Stacey Reese
Villages of Van Buren, Inc.
Keosauqua, IA
Frequently Asked Questions About Custom Real Estate Signs
"What are the most popular sizes for real estate signs?"
One of the most common sizes for real estate signs is 18" height x 24" width. We also stock real estate sign frames which accommodate a 24" height x 18" width aluminum sign panel.
Keep in mind though that aluminum sheeting can be easily cut to any "odd" size to meet your individual needs. Odd size pricing just uses the next standard size up.
"Do you have accessories for my real estate sign?"
Yes. In addition to custom real estate signs and display options, we also offer a variety of info tubes and brochure boxes.
"What are the different ways I can display my custom real estate sign?"
We offer a large selection of A-frames, frames, hanging sign posts and wire stakes for displaying your sign.
"What exactly is Coroplast?"
Coroplast is a tough, waterproof, corrugated plastic sign material which resembles the appearance of "plastic cardboard". The hollow-fluted design of Coroplast makes this sign material extremely lightweight, easy to handle and simple to display in a number of ways.
"How Can I Use Real Estate Signs To Keep My Clients Calm?"
Who Are Your Real Estate Signs Really Selling?
How To Use Real Estate Signs To Keep Your Clients Calm
According to "Mr. Obvious", real estate signs are a popular tool for selling property. However, what Mr. Obvious may not give much thought to is that custom real estate signs can serve your business in multiple ways.
For example, highly professional signage can help soothe the nerves of anxious clients. Sometimes, clients are not only anxious, they are desperate to unload a particular piece of property. The right real estate signs can help calm and reassure clients that all that can be done, is being done to sell their property.
If You Need Assistance Designing A Highly Professional Real Estate Sign, We Can Help
Getting your business image, branding and color scheme just right is important. So if you need help, just contact us at 1-800-899-6272.
Just contact us at 1-800-899-6272.
Best regards,

Tim Harrelson
"Hands-On CEO"