custom plastic PVC signs, plastic signs, PVC signs, interior signage, business signs, custom plastic signs
PVC Plastic Signs — The Perfect Indoor Sign Material
---
Polyvinyl Chloride (PVC) signs are a popular choice for indoor signage. They are both lightweight and thin with a professional looking smooth, satin finish that virtually eliminates reflection and glare.
PVC is for indoor use only, as extreme heat can cause the material to warp. But PVC signs are also waterproof, durable and easy to mount using screws, double sided tape, adhesive or our blind fastener system.
Here are the key points to know about custom PVC signs:
The PVC sign material itself is:
For indoor use only
Easy to care for, as it is completely
waterproof
Lightweight and thin
The most durable of indoor sign materials
Professional looking
Has a smooth satin finish without the
glare or reflection
PVC lasts for decades indoors
Easy to mount (Mounting kits available)
Plus, PVC signs are completely customizable:
You can get any size you want
Any shape
Any colors
Any design, artwork, photo or logo can
be used for custom PVC signs

Sometimes, all you want is the bottom line!
Our online PVC sign pricing tool instantly calculates the exact prices on custom PVC plastic signs, shows you quantity discounts, and even lets you compare this product to other plastic sign alternatives!
And don't forget…at TheSignChef, shipping for PVC signage and all other indoor and outdoor signs is free for orders within the continental US greater than $50 for ground and greater than $400 for freight, and orders outside the state of South Carolina are tax-free!
We offer more colors for PVC signs than anyone out there on the web!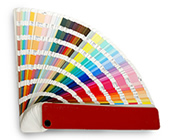 You can now choose from ANY color under the sun when designing your new signage.
The PVC material itself comes in a number of standard colors. But if the material does not come in the color you need, no worries! The magic of digital printing can take care of that for you, at no extra charge!
Big or Small, We Do It All!
While most sign companies are setting limits to what size your PVC plastic sign can be, we are printing PVC signs in every size imaginable!
PVC signage from TheSignChef comes in sizes up to 4' x 8' in a single, seamless sheet. This is the very largest, rigid, seamless sign panel available in the market today. If you need a sign that is larger than that, no worries! Just let us know, and we'll make sure to get you any size PVC sign you need.
Unlike most sign companies who only make standard shaped signs, TheSignChef will cut your PVC signage to ANY custom shape you desire! We cut uniquely shaped signs daily!
Pictured below are a few custom sign shapes to get your creative juices flowing. If you need a PVC sign in an even more unique shape, just let us know. We'll make sure you get exactly the custom sign that you need!
Displaying PVC signage is easy! We offer installation kits and accessories that will help you mount your new sign to wood, metal, stucco, brick masonry or concrete! Or if you'd like to hang your PVC plastic sign, just let us know. We can drill holes to the top of your sign to simplify the hanging process!
"At first I thought that I would never be able to decide which plastic sign material to go with but then I called your company and Lori helped me choose which one was best for me.

I did not know that there were so many different types of sign materials

Thank you so much for all your helpful information.

Until next time,"

Robert Davis
The Davis Group
Fort Lauderdale, Florida

"Your company's ordering process was smooth, and we are very satisfied with the signs you produced for us.

I can say that I searched for our needs via the web for a few days before coming across your site. I found it very easy to understand what I was getting from you and all communication was excellent.

Again thank you for your time and product."

Jason Maurer
Cardinal Health
Groveport Ohio

Frequently Asked Questions About PVC Plastic Signs
"What is the difference between PVC and other plastic sign materials?"
PVC is cheaper than acrylic but more expensive than Coroplast.
Coroplast is mainly used for temporary outdoor signs, and we do not recommend it for a permanent indoor sign display. PVC and acrylic are the ideal materials for indoor signs. The main differences of these materials are as follows:
The PVC material itself is very similar to acrylic, but does not have as much of a high gloss finish
PVC is slightly more durable than acrylic
"What are the key points to know about PVC plastic?"
Are you looking for a professional quality, interior plastic sign?
Need a High-End finish with your indoor signage?
When used inside, these plastic signs are inexpensive to purchase, yet highly durable and professional in appearance. The smooth satin surface has almost zero glare or reflection which gives your sign a conservative appeal.
Just like Acrylic Plastic Signs, PVC Plastic Signs are rigid, lightweight and install easily with screws, double-sided tape, adhesive, Velcro and with other plastic sign holders offered at TheSignChef.
Caution: Recommend for "Interior Use Only"
Although most sign companies still recommend PVC Plastic Signs for outdoor use, we strictly recommend PVC Plastic Signs for "Interior Use Only". Use PVC Plastic signs outdoors at your own risk.
While many people love the results they've experienced with their PVC Plastic Signs displayed outdoors, we have personally witnessed far too many occurrences where the plastic becomes so hot in the sun, it can cause the plastic to warp (badly). With so many better options to choose from for outdoor signage, why take the chance?
PVC Plastic…
…is easy-to-mount.
Since PVC signs are lightweight and thin, they can be
securely mounted with screws, double-sided tape, adhesive,
or a blind fastener system that we offer in our shopping
cart. And don't forget—you can always request
pre-drilled holes for your PVC sign so you can hang it
from a ceiling!
…can be cut into custom shapes and sizes.
Uniquely shaped and sized signs create a visual interest
that is sure to catch the attention of your audience.
…is completely waterproof.
TheSignChef's PVC Plastic Signs are easy to take care of.
Waterproof signs are long-lasting, and require fewer
precautions when moved from place to place.
…is durable and professional in appearance.
These elements will give your company that corporate look
for years to come.
…has a smooth and satin finish.
Our PVC Plastic Signs have a conservative appeal, as the
surface has virtually no glare or reflection!
…comes in white and several standard, rich, vibrant colors.
In recent years, the raw materials and manufacturing
processes of PVC plastic sheeting have vastly improved,
making PVC signs a highly sought after product. In short,
the pigments in PVC Plastic Signs now hold their colors
better than ever before!
"What is PVC most commonly used for?"
PVC plastic signs are most frequently used for:
Business and Office Signs
Retail Store and Display Signs
Warehouse & Factory Signage
Point-of-Purchase Signs
High-End Trade Show Signs
Hanging and Floor Signs
Sale and Promotional Signs
Directional Signs
Identification Signs
"Why can't I put my PVC sign outside?"
PVC signs are recommended for indoor use only because extreme heat can make the material warp.
"What colors are readily available for my PVC sign?"
The PVC Plastic Sign material comes in white and several standard, rich, vibrant colors. In recent years, the raw materials and manufacturing processes of PVC Plastic sheeting have vastly improved making Plastic PVC Signs a highly sought after product, especially for retailers.
PVC Plastic Signs are often used inside offices, retail stores, as hanging signs, promotional signs, sale signs, directional signs, Point of Purchase Signs, identification signs, high-end trade show signs, interior signage and virtually anywhere else you need to professionally display your message.
"What are popular sizes for PVC plastic signs?"
Individual custom plastic signs are cut to order from 4' x 8' sheets to fit your unique, individual needs. Common thicknesses include 1/8", and 1/4" plastic. However, PVC Plastic Signs are readily available up to 1" thick!
"How quickly can I get my signs designed and shipped?"
Up-To-The-Minute Custom PVC Plastic Sign Production Update!
We still have a few spots OPEN in today's schedule. So if you place your order today, our Art Department will e-mail you a proof tomorrow.

Wouldn't you prefer to get this PVC plastic sign project off your plate so you can move on to other important tasks? You can design & order your custom PVC sign now and instantly save 15%-30% at checkout or call us now at 1-800-899-6272 and we'll reserve your spot in today's schedule for a proof.


P.S.
"Most orders ship within 1-3 days... if you need your order even faster, just let me know. I'll make sure to get it out for you!"

"How do I know that my custom PVC sign will turn out the way I want?"
Are you concerned that your custom PVC sign may not turn out the way you want?
After all, we are probably hundreds of miles away from you so how can you be certain your order will turn out right? Fortunately, it only takes seconds to transmit full-color custom PVC plastic sign designs from our computer to yours because e-mails travel so fast these days.
Upon order approval, here's how the process works:
First, your order goes straight to the Art Department
Our Graphic Designer will then e-mail you a proof
(a "proof" is a picture of what your sign will look like)
Once you review the layout, let us know if you would like to see any changes, and …
If you have any changes, we will e-mail you proofs as needed until you're completely happy with your design.
"Do you offer any buyer protection guarantees?"
Yes! Every PVC sign order comes with a 100% Buyer Protection Guarantee
Sometimes, we make mistakes. We are only human after all. But it's how a business handles mistakes that counts, wouldn't you agree? So if we do happen to overlook something on your order, we will bend over backwards to make you happy. We stand behind our work with a 100% Customer Satisfaction Guarantee.
We will promptly replace any product that is defective in workmanship or that is different from what you approved. And for your trouble, you'll even get a very pleasant surprise gift.
"Is your website secure and credit card safe?"
Does the thought of buying custom PVC signs online with a credit card leave you feeling a bit anxious?
Are you worried you might be taking an unnecessary risk? With all the bad press about credit card fraud and card numbers getting stolen by hackers, it's wise to proceed with caution. We can understand if you still have some personal concerns about the safety of your credit card information.
Our system uses the latest 256-bit Encryption SSL technology as used by the Banking Industry, Walmart.com, Amazon.com and thousands of other online merchants
SSL technology works by encrypting all your personal and credit card information so it can travel over the internet without being intercepted by thieves
And as an added precaution, the moment you complete your custom PVC sign order online and the charges are authorized by your credit card company, your credit card information is INSTANTLY DELETED from our data-base. It's the same as if you walked into our business, charged your order and then we SHREDDED your credit card receipt.