goof proof vinyl letters, vinyl window graphics, vinyl graphics, vinyl letters, custom vinyl lettering, decals
Custom Vinyl Letters and Graphics
---
Vinyl letters and graphics are applied flat to store front windows and doors, cars, trucks, boats and walls. You've seen them a million times in shop windows, on company cars and even as home decor! But there's a BIG secret most sign companies don't want you to know: vinyl graphics and letters don't need to be applied by a professional to achieve a professional look. These companies don't tell you just how easy it is. Instead, they charge you for an unnecessary application service.
We want to help you save money, so with every vinyl lettering order we include a vinyl application kit and easy, step-by-step instructions. You'll also have access to our online "how-to" video guides that explain every critical step in the process so your graphics look professionally applied. Plus, we offer a Goof Proof Guarantee that states, "If you mess up one letter or even the whole set, we'll send you the replacement vinyl letters you need absolutely free of charge. In fact, we'll even pay the extra shipping costs!"
All of this makes applying your vinyl lettering and graphics easy and worry-free! Between our already competitive vinyl graphic prices and the money you'll save by applying them yourself, you will save close to 70% by purchasing vinyl lettering and graphics from TheSignChef.
The vinyl material is:
Available in a wide range of colors and virtually any design
It has a shiny, satin finish
Vinyl comes pre-spaced and ready to apply
You can save about 70% by easily applying vinyl letters and graphics yourself
With simple instructions, you can achieve professional results
Want to save money, but worried you will get in over your head?
If you've never applied vinyl letters and graphics before, the process can seem pretty intimidating at first. You don't want to "mess up" and get the letters crooked. Or even worse, botch the job so badly you have to buy another set and start all over again.
But we make this process easy. All of the vinyl lettering and graphics you receive from TheSignChef will come pre-spaced and ready to apply. Plus, you'll receive an application kit, step-by-step instructions, and will have access to our online how-to videos.
Because our self-application system has been so successful, we have put in place an exclusive Goof Proof Guarantee which states, "If you mess up one letter or even the whole set, we'll send you the replacement vinyl letters you need absolutely free of charge. In fact, we'll even pay the extra shipping costs!"
Once you've put vinyl letters on for the first time, you may wonder how sign shops get away with charging so much for something that's so easy to do. It doesn't take a "professional" to look like one.

Sometimes, all you want is the bottom line!
Our online vinyl lettering and graphics pricing tool instantly calculates the exact prices on custom vinyl, shows you quantity discounts, and even lets you compare this product to other sign alternatives!
And don't forget…at TheSignChef, shipping on vinyl letters and graphics and all other indoor and outdoor signs is free for orders within the continental US greater than $50 for ground and greater than $400 for freight, and orders outside the state of South Carolina are tax-free!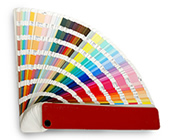 We offer more colors for vinyl lettering than anyone out there on the web!
You can choose from an extensive range of vibrant colors for your vinyl letters and graphics. You're sure to find a color match for your business branding, school colors or home interior.
Big or Small, We Do It All!
While most sign companies are setting limits to what size your vinyl lettering and graphics can be, we are creating vinyl lettering in practically every size imaginable!
We can make your vinyl graphics as big as you want! However, we do not recommend vinyl graphics and letters under 1/8". Leters and graphics at this size are difficult for your customers to see. Plus, at this miniscule size, vinyl tears easily.
Applying your custom vinyl letters is easy and cost effective with our do-it-yourself application kit. You'll achieve a professional look without having to pay a professional! Anyone can do it, and we have how-to videos and instruction guides to help you along the way.
Plus, we offer a Goof Proof Guarantee.
"When you told me it was easy to put on the vinyl letters, I just thought you were exaggerating. But, since you guaranteed you would take care of me if I messed up, I decided to give it a try.

With your step-by-step guide and the Vinyl Magic kit, I installed all my vinyl letters in less than 10 minutes. Now I know I can save even more money every time I need this kind of work done in the future!"

Thank you so much.
Sincerely
Don Sanders
Water Purifying Systems Corp.

"I had the pleasure of working with Meredith on a recent order. I want to let you know that I am so impressed with your business! I already told three friends who are thinking of doing similar projects about you. Meredith was extremely professional and I have never received such outstanding customer service. Your company did offer me the best quote, but even if you had been more expensive I still would have given you my business because of the way my order has been handled thus far. I just wanted to commend you on how pleasant this process has been."

Upmost thanks,

Emily Saldine
Point Loma Nazarene University
San Diego, CA
Applying vinyl lettering and graphics is easy!
The video below will demonstrate how you can apply custom vinyl graphics yourself — the same way we do right here in our shop!
Frequently Asked Questions About Custom Vinyl Lettering and Graphics
"What exactly are vinyl letters and graphics"
Vinyl letters and logos are cut from vinyl roll stock resembling the same type of material which bumper stickers are made out of. A computer controlled cutting machine called a plotter, scores and contour cuts the vinyl sheeting into precision, custom shaped vinyl letters and graphics.
When vinyl graphics and logos are applied, it almost looks as if they were printed right onto the surface. There is no clear or white background as with a bumper sticker or other type of decal.
"What are the key differences in all types of vinyl lettering?"
Are you unsure which type of vinyl letters to choose because you don't know these key differences?

Do you even know what your options are?
With the hundreds of choices available in vinyl graphics, it's easy to get confused. You could easily pay entirely too much and still not get the results you expect.
Since vinyl letters and graphics are used to produce the text, graphics and logos on 94% of all signs and vehicles, it's critically important you know which type of vinyl graphics to specify. Otherwise, the decision will be made for you which may not serve your best interests. With these insider secrets, you'll be able to choose the perfect type of vinyl lettering for any custom sign or vehicle.
"Where can vinyl letters and graphics be used?"
Vinyl graphics are perhaps the sign industry's most versatile invention to date. They readily stick to most surfaces including:
Trucks
Trailers
SUVs
Vans
Cars
Buses
Windshields
Boats

Storefront Windows
Office Doors
Interior Store Walls
Trade Show Booths
Banners
Plastic
Wood
Metal
"What is the best type of vinyl for vehicle lettering and permanent outdoor signs?"
If you plan on having your new vinyl lettered sign in service for 2 years or more, you should choose genuine"2 mil thickness, High-Performance Cast Vinyl Films". This specification is universally recognized by sign companies nationally and will remove any confusion as to the type of vinyl graphics you expect to be used for your signage.
Otherwise, if you just assume high performance vinyl graphics will be used, you will likely end up with intermediate vinyl lettering and graphics instead. Intermediate vinyl graphics are perfect for:
Banners
Temporary or short-term outdoor signs, and
Long term interior signs.
However, on vehicles, windows, boats and permanent outdoor signs, high- performance vinyl graphics are strongly recommended. The small difference in the overall price (approximately 30%) will extend the useful life of your signage by 300% to 400%!
High-performance vinyl graphics have a larger selection of colors to choose from, superior fade resistant qualities and won't shrink like intermediate vinyl. When intermediate vinyl graphics shrink, they can leave an ugly adhesive residue around the edge of each letter. And as vinyl shrinks, cracks frequently develop in the graphics as it literally pulls itself apart. This doesn't happen right away but when it does, it literally looks as if someone took a razor knife and sliced the vinyl. It's not a pretty sight.
"Can you see vinyl graphics and lettering at night?"
Although there is a vinyl that actually "glows in the dark", it is designed for interior use only. What most people are referring to when they are seeking vinyl lettering for night time visibility is reflective vinyl. Reflective vinyl is the same type of vinyl used on STOP signs and other street signs.
Reflective vinyl graphics "light up" by reflecting light back at night such as when your headlights shine on a STOP sign. Without a light source though, the reflective vinyl has no light to reflect back and remains dark. Therefore, if you use reflective vinyl letters for a stationary sign that either won't catch the headlights or is not lit with exterior lighting, it will NOT be seen. So there's no point in spending the extra money.
Since reflective vinyl letters are 74% brighter to the human eye than non-reflective vinyl graphics, they can add extra punch to a sign at night that has exterior lighting. High Performance Reflective Vinyl Graphics are durable outdoors 7-10 years.
"What types of vinyl should I watch out for?"
1. Fluorescent Vinyl Letters
There are certain types of vinyl letters which are more expensive and yet have an extremely short life span. Fluorescent Vinyl graphics are often requested because of it's brilliant, eye-catching color. Although it doesn't glow in the dark, it's color is so bright, it seems to give off it's own light. However, the fluorescent pigments are not UV stable (the rays of the sun wash out the pigment).
The sun usually turns these vibrant colors milky white in as little as 3-6 months. There is one fluorescent vinyl brand we found that has built-in ultraviolet light inhibitors and is rated for up to 2 years outdoors. In either case, fluorescent vinyl graphics should only be considered for short term outdoor promotions. Indoors, it can last several years as long as the vinyl does not get any direct sunlight through storefront glass.
2. Simulated Metal Looking Vinyl Letters
Mirror Chrome, Brushed Chrome, Mirror Gold and Brushed Gold vinyl graphics resemble the appearance of metal and are frequently requested by clients. However, even though these vinyl films are more expensive than standard colors, the vast majority of these metallized polyester films are rated for only 6-12 months outdoors. If you search hard enough, you can find certain metallized films rated for up to 24 months.
We discovered a manufacturer who uses a proprietary process to extend the life of these metallized vinyl films up to 5 years outdoors! The price is virtually the same and they offer more finishing options. Call us for details and pricing.
3. Special Effects Vinyl Letters
These eye-catching vinyl graphic films include, Holographic, Difracto, Metal Flake, Multi-Lens, Mosaic, Carbon Fiber, Fantasy Crystal and Diamond plate. These specialty films are designed for interior signs and short term outdoor applications. The "special effects" break down in as little 6-12 months outdoors.
"What does the sign industry not want us to know about vinyl graphics?"
There is a dirty little secret the sign industry has been hiding from the public for years. And this everyday practice continues to cost unsuspecting consumers much more than they realize.
Most people don't know that the sign industry is almost completely unregulated. As a result, sign companies are free to conduct business, behind closed doors, in any manner they choose. Most sign shops conduct business ethically. Unfortunately, far too many sign shops don't and consumers usually can't tell the difference, until it's too late.
Here's What's Happening
One of the easiest ways for a sign shop to cut costs is by substituting intermediate vinyl letters when high-performance vinyl is clearly called for. The raw material cost difference is around 300%! For some sign shops, the financial incentive to save that much money on material costs is just too tempting.
Again, intermediate vinyl lettering is a great product, but it was never intended for extended outdoor use on vehicles and permanent signs. If you personally make the decision to save money by choosing intermediate vinyl graphics over high performance, that's your choice.
However, it's not at all uncommon for a sign shop to pretend to offer "superior quality" and then substitute intermediate vinyl letters instead of using the high performance vinyl the customer should be getting. Unfortunately, customers don't know the difference until after the standard 1 year warranty has expired.
The Root Of The Problem
Part of this problem started more than 20 years ago with the vinyl manufacturers making false claims that their intermediate grade vinyl lettering was "Rated Outdoors For 3-5 Years Outdoors". Sign shops trusted this information to be correct and substituted intermediate vinyl letters for use on vehicles and permanent signs. After all, upwards of 5 years is not an unreasonable lifespan for a sign, right?
Unfortunately, it didn't take long to see this 3-5 year rated vinyl start fading and cracking in as little as 6-12 months! Although intermediate vinyl graphics have improved over the years, it still shrinks, cracks and fades in a third of the time of high-performance vinyl.
Most vinyl manufacturers today claim their intermediate vinyl films will last 5-6 years outdoors, but we continue to witness far too many failures in just 12-24 months. Where do we see all these failures? On signs everywhere, in full public view along the highway, which fade in a very short time after being installed.
The Paradox
The same vinyl manufacturers who over-rate their intermediate vinyl graphics, under-rate their high performance vinyl films. In many if not most cases, high performance vinyl letters have far outlasted their 5, 7 or 8 year ratings. With few exceptions, 2 mil, cast high-performance vinyl lettering maintains it's dimensional stability (doesn't crack), is highly fade resistant and lasts for several years, even under extreme saltwater marine conditions.
One Final Word On This Subject
Lighted signs are now commonly decorated using specialized High-Performance Translucent vinyl graphics. These films are specially designed to transmit light evenly through the colored vinyl graphics at night creating a perfectly uniform and professional appearance. When this type of vinyl lettering is used, lighted sign faces can easily last 7-10 years outdoors.
However, intermediate vinyl letters light up just like "the real thing". To the untrained eye, there's no difference until the intermediate vinyl begins to show signs of fading in 6-12 months. So be aware that substitutions are just as common on lighted sign faces as non-lighted signs.
How Can You Protect Yourself?
When the type of signage you want calls for High-Performance Vinyl graphics, ask for it by name. Make it part of the written specifications on your order. You'll minimize the chance that an unauthorized substitution will be made because you are making it clear you are an informed buyer who knows the difference.
"Can I put any design on my vinyl?"
We can contour cut vinyl to create any design that is a vector file. Vectors are pixel-free and usually come in PDF, EPS or AI files. Photographs, for example, cannot be vector files.
However, if you want to incorporate photographs into your vinyl signage, you can achieve this with our digitally printed vinyl decals.
"How long will my vinyl graphics last?"
Vinyl graphics are available in economy grade and premium grade. Economy vinyl is rated to last up to three years outdoors. Premium vinyl is rated to last up to eight years outdoors, but often lasts much longer. All vinyl lasts indefinitely indoors.
"What comes in the do-it-yourself application kit?"
Our 3-piece Vinyl Magic application kit comes with:
A water-based deep cleaner and de-waxer (vinyl will not stick to surfaces that have wax on them)
Application fluid to ensure a bubble-free application
A plastic squeegee to firmly press down the vinyl lettering against the surface (pressure is what activates the adhesive bond)
Be sure to check out our how-to videos and instruction guides to supplement the application kit.
"Why do other sign companies want to apply my vinyl graphics for me?"
Applying vinyl graphics the "professional way" is exceptionally easy, but most sign companies don't want you to know that. They want to make extra money for an easy job you can do yourself. ALL vinyl letters and graphics are applied the same simple way, and anyone can get professional results. That's why we offer a do-it-yourself kit that lets you apply your own vinyl, which comes pre-spaced and ready to adhere. It couldn't be easier!
PLUS, we offer a Goof Proof Guarantee that says if you do somehow mess up, we'll send you replacement letters or graphics free of charge — and take care of the extra shipping cost too!
Many sign shops also charge considerably higher retail prices for custom vinyl letters and graphics. Combined with their "professional application services," you can end up paying 300%-500% more for your vinyl with other sign companies.
"Can I apply my vinyl letters and graphics according to other instructions I've found online?"
Yes, but we do not recommend it. Many of the instructions you'll find online leave out critical steps that will shorten the life of your graphics. Other companies offer overcomplicated instructions in the hopes that you'll hire them to apply your graphics "professionally."
We've spent hours and days creating the perfect instruction videos and step-by-step guides that are comprehensive but not overloaded with needless information.
"What is the secret to getting professional looking vinyl lettering at do-it-yourself prices?"
Do you like the idea of saving money, but worried you might get in over your head?
If you've never applied vinyl letters before, the process can seem pretty intimidating at first. You don't want to "mess up" and get the letters crooked. Or even worse, botch the job so badly you have to buy another set and start all over again.
Sign companies are able to use these fears as leverage because as long as you don't know how easy it is to apply vinyl graphics yourself, you have to pay the "professionals" to do it for you. Plus, in addition to the cost of application, local sign shops charge considerably higher retail prices for the vinyl letters themselves. So you can easily end up paying 300% - 500% more to a full service local sign company.
Want To Save About 70% Over Full-Service Prices?
Yes, you really can save about 70% off by lettering your own company vehicles, enclosed utility trailers and storefront windows. In our step-by-step guide, we'll show you the real secrets of vinyl graphic application you won't find anywhere else.
Other so-called "Vinyl Letter Application Instructions" you see on the internet leave out critically important steps. And missing even one of these key steps can significantly shorten the life of your vinyl graphics. Once you see how simple the instructions are to follow, you'll get professional results every time.
Vinyl letters and graphics from TheSignChef.com are so easy to apply, they are literally "Goof Proof". Every vinyl lettering kit automatically includes:
The secret Goof Proof method we use in our own shop every day – fully illustrated in our step-by-step guide
A 3-Piece Vinyl Magic Application Kit which includes:

A special water based deep cleaner and dewaxer (you don't want to apply vinyl letters to surfaces that still may have wax – they won't stick as well)
Vinyl Magic Application Fluid (for a bubble-free application)
A Plastic Squeegee to firmly "press down" the vinyl lettering against the surface (pressure is what activates the adhesive bond)

And our exclusive Goof Proof Guarantee which states, "If you mess up one
letter or even the whole set, we'll send you the replacement vinyl letters you need absolutely free of charge. In fact, we'll even pay the extra shipping costs!"
Once you've put vinyl letters on for the first time, you may wonder how sign shops get away with charging so much for something that's so easy to do. It doesn't take a "professional" to look like one.
Your vinyl lettering, company logo or other graphics automatically come:
Ready-To-Apply
Perfectly Aligned, and
Pre-Spaced
(apply whole words together, not letter by letter)
You can choose any letter style, color, artwork or company logo and have it converted into a highly professional, beautiful, multi-colored vinyl graphic image.
Here's a Quck Tip:

In order to preserve the resell value of your vehicle, Vinyl Letters can be removed with the help of a hair dryer or inexpensive heat gun.
Computer generated vinyl letters and graphics are so durable, they can last more than 10 years, even through multiple car washes. Not only are vinyl graphics used to letter commercial and emergency vehicles, they are also used to produce the lettering for all types of rigid plastic signs, wood signs, corrugated signs and other advance composite sign background materials (including materials such as Alumalite, ARMOUR-Wood, Dibond, etc.)
"How quickly can I have my vinyl letters and graphics designed, produced and delivered?"
Up-To-The-Minute Custom Vinyl Lettering Production Update!
We still have a few spots OPEN in today's schedule. So if you place your order today, our Art Department will e-mail you a proof tomorrow.

Wouldn't you prefer to get this vinyl lettering project off your plate so you can move on to other important tasks? You can design & order your custom letters and graphics now - call us now at 1-800-899-6272 and we'll reserve your spot in today's schedule for a proof.


P.S.
"Most orders ship within 1-3 days... if you need your order even faster, just let me know. I'll make sure to get it out for you!"

"How do I know that my vinyl lettering and graphics will turn out the way I want?"
Are you concerned that your custom vinyl graphics may not turn out the way you want?
After all, we are probably hundreds of miles away from you so how can you be certain your order will turn out right? Fortunately, it only takes seconds to transmit full-color vinyl lettering designs from our computer to yours because e-mails travel so fast these days.
Upon order approval, here's how the process works:
First, your order goes straight to the Art Department
Our Graphic Designer will then e-mail you a proof
(a "proof" is a picture of what your sign will look like)
Once you review the layout, let us know if you would like to see any changes, and …
If you have any changes, we will e-mail you proofs as needed until you're completely happy with your design.
"Do you offer any buyer protection guarantees?"
Yes! Every vinyl lettering order comes with a 100% Buyer Protection Guarantee
Sometimes, we make mistakes. We are only human after all. But it's how a business handles mistakes that counts, wouldn't you agree? So if we do happen to overlook something on your order, we will bend over backwards to make you happy. We stand behind our work with a 100% Customer Satisfaction Guarantee.
We will promptly replace any product that is defective in workmanship or that is different from what you approved. And for your trouble, you'll even get a very pleasant surprise gift.
"Is your website secure and credit card safe?"
Does the thought of buying custom vinyl lettering online with a credit card leave you feeling a bit anxious?
Are you worried you might be taking an unnecessary risk? With all the bad press about credit card fraud and card numbers getting stolen by hackers, it's wise to proceed with caution. We can understand if you still have some personal concerns about the safety of your credit card information.
Our system uses the latest 256-bit Encryption SSL technology as used by the Banking Industry, Walmart.com, Amazon.com and thousands of other online merchants
SSL technology works by encrypting all your personal and credit card information so it can travel over the internet without being intercepted by thieves
And as an added precaution, the moment you complete your custom vinyl banner order online and the charges are authorized by your credit card company, your credit card information is INSTANTLY DELETED from our data-base. It's the same as if you walked into our business, charged your order and then we SHREDDED your credit card receipt.