Vinyl Banner Printing Has Changed Vinyl Banners Forever!
As Soon As Digital Printed Banners Hit The Market Things Were Different
The ability to print directly onto the Banner material was ground breaking. No longer were we bound to restrictions in colors, and the detail of clipart and graphics!
Custom Banners Were Now Truly Custom!
Designers could now use as many colors as they wanted! Photographs, graphics, images, and logos were now something that belonged on every Banner Sign!
Well atleast here at TheSignChef.com we feel they should be apart of every Banner. We can't speak for the rest of the Sign Industry =)
Street Banners Using Banner Printing
were once limited to only a few colors per banner due to expensive vinyl cost, and immense amounts of labor in producing multiple color . Now with the option to print a banner instead though you can end up with a large and colorful banner at a fraction of the cost it would have been using vinyl graphics.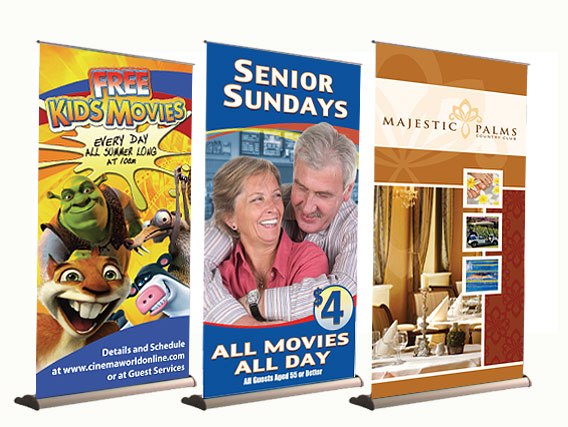 Colorful Display Banners Bringing Necessary Attention To Your Business
Display banners are found everywhere! Whether in a business showroom, a car dealership showroom, trade show, or inside a mall. This type of Vinyl Banner is commonly used, and can easily be transported with Retractable Banner Stands.
Advertising Using Flag Banners
I've seen this type of Banner all around, including inside Grand Central Station. From getting an advertisement out to the public, to showing pride in your country Flag Banners have a vast amount of uses.
A Banner With Rope?
Rope is commonly used for the installation of Vinyl Banners. Banner Signs making use of rope can make a cost effective way of constantly changing your advertisements out. With the low cost of purchasing Signs and Banners you can easily change your advertisement more then once a year. Giving people a means to notice your ever changing sign facade.
Now Matter What Type Of Custom Vinyl Banner Your After, TheSignChef.com Has You Covered
We not only offer our online design software SignMagic, but we also offer Live Design our FREE design service.
Either way TheSignChef.com will be sure to make your Vinyl Banners are just the way you want them! So give us a call setup a Live Design Session. Will create an amazing Banner for you while you watch!
Best regards,

Tim Harrelson
"Hands-On CEO"
Here are some of the most pertinent facts to know about vinyl banners:
Readily available in two finishes


Vibrant, high gloss finish
Or a more conservative, super smooth, matte finish

Perfect for special events, sales and seasonal promotions
Easy to hang and display (banner stands and accessories available)
Suitable for use as temporary outdoor signage, up to 5 years
Completely waterproof
High tolerance to wind, cold and hot weather extremes
Vinyl Banner signs can be one-sided or two-sided
Plus, custom outdoor vinyl banners are highly versatile
You can get any size you want
Cut into virtually any shape
Any design, artwork,photo or logo can be used
And virtually any color you want
I own a gymnastics studio for children. Our landlord did not allow changeable reader board signs so we got creative. I ordered 3 different vinyl banners for the various specials we offer.

All I have to do is unroll the vinyl banner and tie it under our existing sign up front. When we change the special, I just take the old vinyl banner down and put the new one up.

The really great part is that - not only was it a lot less expensive than one of those changeable signs - the color vinyl banner looks so much better; thanks to the help of your graphic artist.

Thank you so much.

Sincerely,
Beth Wilson
World of Fun Gymnastics
Up-To-The-Minute Custom Vinyl Banner Production Update!
We still have a few spots OPEN in today's schedule. So if you place your order today, our Art Department will e-mail you a proof tomorrow.

Wouldn't you prefer to get this vinyl banner project off your plate so you can move on to other important tasks? You can design & order your custom vinyl banner now and instantly save 15%-30% at checkout or call us now at 1-800-899-6272 and we'll reserve your spot in today's schedule for a proof.


P.S.
"Most orders ship within 1-3 days... if you need your order even faster, just let me know. I'll make sure to get it out for you!"

Frequently Asked Questions About Custom Vinyl Banners