Home Decor Signage: Personalizing Touches that Speak Volumes
Not only can custom
improve the curbside appeal of your home, they can be used to convey thoughts and wishes to neighbors, friends and visitors alike. Whether adding to the decor of your home or to portray an overall feeling of welcome, custom decorative signs can add to the aesthetic of all aspects of your house. So with the ever-increasing popularity of home sign decor, we've put together a countdown of the top five custom residential signs we produce.
5. Personalized Bronze Address Plates
While the nature of an address plate may speak for itself, the limits of what we can do with your particular plate are limitless. We can produce basic numeric or lettered address plates, or you may choose to also include your last name on the plate. Beyond the basics of an ordinary address plate you may have a golfer, fisherman or dog lover in the home. A portrayal of hobbies or activities can also be added to custom address plates. But the possibilities don't end there … portray your military service, civic affiliation or club membership as well.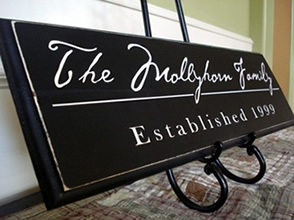 4. Family Signs
Spruce up the foyer or entranceway to your home with a custom family sign. From simple last names to monogram initials, family signs personalize your house from the very first impression and help generate a feeling of "home" for family and visitors alike. Or choose to forego your last name and take your personalization one step further by paying homage to the family crest or coat of arms.
We've found that some people enjoy creating wall signs to give to family members as gifts. Such signs read messages like "World's Best Grandmother," or sometimes state a favorite quotation.
3. Lettering for a Baby Nursery
Go beyond the commonplace pink or baby blue walls and decorate your child's nursery with 3-D wood letters or vinyl wall lettering and décor. You may choose to spell out your baby's name with wood blocks, all the while adding a sense of dimension to your nursery wall.
You can also "write" your baby's name on the wall, or your favorite quote or wish for your baby with vinyl lettering above his or her crib. You can even doll up existing decor with vinyl animals, toys, clouds or shapes.
2. Bar and Spirit Signs
Personalize your at-home bar with custom signage. Adorn the back of the bar with a personalized sign telling your "patrons" just whose bar they are sitting at. Add atmosphere to your walls with aluminum signs of your favorite brands and cocktails or take your brand loyalty one step further with clear, free-standing acrylic signs engraved with your favorite beverage. We also offer these with light-up LED capabilities to truly highlight them as a focal piece.
Perhaps you want your bar area to convey a certain "look" or "feel." By utilizing a series of similar, thematically-based signs, you can portray any particular look you're after. For example, you may choose vintage Guiness signs and Gaelic sayings to portray an "Irish pub" feel or adorn the walls with sports-related signs to give the space a "sports bar" appearance.
1. Man Cave Signs
It's the one room you have all to yourself so make it entirely yours with custom
. Plant the proverbial flag in your man cave with personalized name signs letting guests know whose room it is. Display Alma Mater pride from your college years or show your professional team colors with custom signs or posters of your favorite sports organizations and their logos. You can even show your affection for a particular city or hometown with landmark street signs such as "Wrigley Field", "Grand Central Station" or "Boston Garden." Looking to make your space a bit more nostalgic? Give a nod to yesteryear and achieve a "long ago" feel with of your favorite brands, hobbies or activities. And guys, it is your room, so don't forget the ever-popular "No Girls Allowed" sign.
Pictured below are a few examples of some Man Cave Signs we've recently produced.
Shop For Man Cave Signs Here
---
Launch SignMagic now to begin
designing your new sign!

Or, simply call

1-800-899-6272

to work with
your own personal sign specialist in creating
the perfect decor signage for your home!